Who We Are
Dark Victory Armory is dedicated to delivering a turn-key armor solution for full contact medieval combat fighters.  In our nearly two decades of production we continue to develop innovative protection solutions for combatants of all ages and skill levels.  Our armor is particularly well suited to incoming fighters because of its low weight, high utility, ease of use and modification, and excellent protective qualities when properly padded.
Dark Victory Armory was founded by Jordan Weinstein and Daniel Curtis in 1997.  Daniel, known in the S.C.A. as Daniel of Stonemarche was engaged in the hobby of building armor for his men at arms in exchange for their agreement to fight with his unit.  Unfortunately as is the case with humans, his men at arms were less than loyal to that agreement.  So when Jordan (called Dietrich der Mistook von Berne) joined him, they decided that it was more straightforward to build sets for any and all fighters who needed gear and either charge for the work or have them come in and work in the shop to build their own gear.  That tradition to some extent continues to this day as new but poor fighters are sometimes welcomed into the shop to help in the production process in exchange for being equipped for glorious armored combat.
After a several years of incredible growth to meet the demands of the hoard of incoming fighters near the turn of the millenium, Daniel chose to leave the business to seek an advanced degree at graduate school.  And Jordan continues to grow Dark Victory Armory to provide innovative fighter gear. 
Dark Victory Armory is in the process of designing a graduated step up program for incremental armor sizing.  This program when it is fully implemented will allow youth combat fighters to make an initial investment in the gear that they need now, and to add on as they rise through the ranks of armored combat.  These steps will be well accomplished using Dark Victory Armory gear because of the modular nature of our designs and the ease of assembly.  For example: Instead of replacing a complete breastplate it can be possible to just swap out side plates for a tiny fraction of the cost of a complete exchange.  This will allow the gear to be incrementally replaced with larger subcomponents.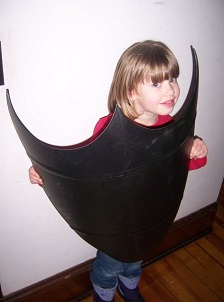 The base armor components that incoming youth fighters will find useful are
Division 1:  Start with the following
Neck: Choice of

accessory plates for back and front of the helm to give complete coverage
 or a DVA small gorget

Hands: Youth Street hockey gloves  -Mylec model 593 size XS -
Elbow:  Riveted plates – optional but recommended.  You can get away with just elbow pads alone.
Division 2 & 3:  Add these components
Torso: Choice of

youth fighting chest harness
or a belly and back harness in size small

Hands: Choice of

Size small/medium 1/2 gauntlets worn with gloves
or cuphilt (better... lighter) or basket-hilt worn with gloves

Arms: Elbow plates – are required, so these are necessary at this level.  Wear them over them over elbow pads.
Knee or full leg  – two options here:  Choice of

Knees: A set of small knees can be mounted to knee pads – less costly and a bit harder to keep in place
Full legs: a set of small legs can be hung from a belt. – more costly but full leg protection and easier to keep in place
These recommendations are based upon the February 2015 East Kingdom armor standards.  Please consult with your marshal to confirm the standards that apply in your Kingdom and use your best judgment.
- < that was an amusing tangent >
Over the years, we have continued to develop new skills and pattern as are called for by our customers.  If you have a piece of armor that you would like, send an email to
jordan@DarkVictory.com
along with a description and perhaps a few pics to give us a sense of what you'd like.
Check out our youtube channel! <--- waiting to hear how this works