Picture: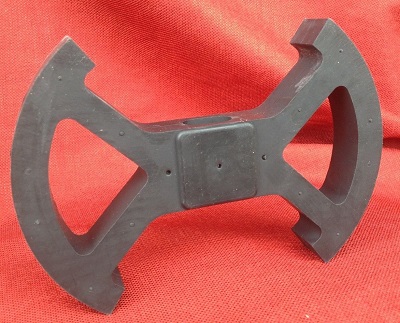 One Sturdy Rubber Axe Head - Single or Double Face
This auction is for a goodly Rubber Axe Head designed specifically for SCA and WMA heavy combat.  Made of a heavy vulcanized rubber it is extremely tough and nearly indestructible given it's single piece stout injection molded construction.  These have been designed to be deliver a telling blow while at the same time have an inner crush space that moderates the severity of the blow for the safety of the recipient.  These designs are widely accepted through the Known Worlde however some Kingdoms may require addition padding along the striking surface.  They are available in two varieties 
The single head axe measures 7" x 1 1/2" across the striking surface.  Overall size is 5 3/4" head to base, 6 1/2" edge to edge on axe head and  1-1/2" thick.  Weight is just over 1 lb.
The double head axe measures 7 5/8" x 1 1/4" across the striking surface. Overall size is  9 1/4" head to head, 6 1/2" edge to edge on axe head and 1-3/8" wide near the stick hole.  Weight is 1 lb 6 oz.
The eye of the axe measures 1 1/4" x 3/4" but it's recommend to be a bit larger than this to be properly hafted and held in place.  We have been told that "the eye of the Axe will stretch to accommodate up to 2 1/4" rattan" but DVA does not recommend such an extreme. Standard sword stock rattan is your best bet.
In appearance, they are a mostly smooth black surface.  They're specifically designed and manufactured for SCA combat, with a large dollar investment and many hours invested in design, mold costs, and prototype runs.  If you haven't seen one, you haven't seen anything like it.