Picture: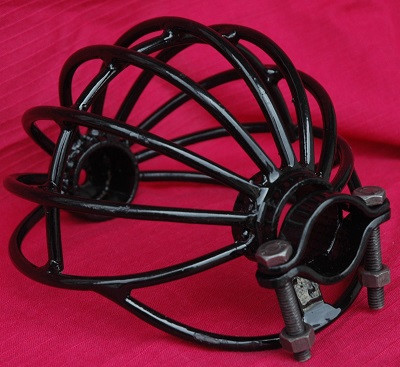 ONE Excellent Steel Sword Basket for Rattan Combat
When you are looking for serious hand protection, nothing fits the bill like this steel clamp style Sword Basket.  Using high strength machine bolts your rattan is held snugly in place within the steel front and rear sockets.  There is a hole at the base for setting a lag screw into the butt of your rattan sword, but it's nearly never needed because of the efficient grip of the clamp.    Good counter weight for balancing the weight of a weapon and keeping it more nimble for change of line attacks that can find your opponent's openings.  This sword basket is designed specifically for SCA heavy combat, made of a good quality thick gauge mild steel round stock and then powder coated for durability and low maintenance.  Because of it's sturdy construction they can withstand quite a lot of sustained abuse. 
Like all standard sword baskets, your marshal will probably require you to wear at least back-of-the-hand protection while using this.  Check with your local marshallate.