Picture: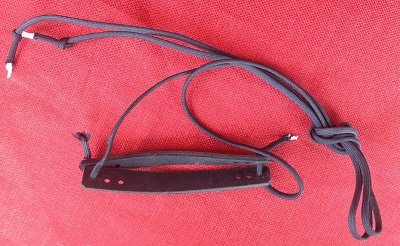 Chin Strap Kit for Helm for Full Contact SCA Combat
This is for a chin strap kit for use with Steel Helms. It is designed specifically for SCA heavy combat or any other full contact martial combat that uses steel helms for head protection.  It is available in the two styles that as may be suited for the preference and the wearers style of helm.
The simple chin strap uses two strips of heavy gauge latigo leather which deliver excellent wearability (it's comfortable) and resistance to the rigors of heavy use (it's sweat friendly).  We rig this out with washer reinforced paracord (more than a yard on each side) for a highly serviceable tie back style chin strap.  It's typically secured either at the back of the helm or crossed back to the front for easier access.
The Advanced chin strap uses a true chin pocket made from heavy gauge bridle leather.  It has three mounting positions that are used to adjust for the wearer's chin size from narrow to large.  Extra can be trimmed if desired.  This pocket is attached to the included straps and the pivot D rings are then attached to the inside of the helm.  This system makes for an easy comfortable closure with the strap end being captured within the buckle by using another metal D ring.  It's a great way to tighten and close even when wearing gloves.
Instructions for the advanced strap from Dietrich, your armorer:
To start with you quite possibly have extra rivets. I toss in a variety to give some different options.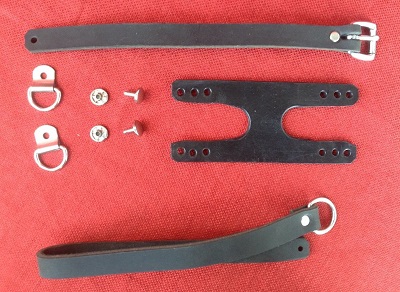 Let's start with that chin cup, that's the H shaped leather. You have three different size options and you'll overlap the legs of each side of the H to make to suit your particular chin. Notice that there are also two straps in there. These will need to be attached to the chin strap as well... Some fighters like it to use the same hole as they use to close the chin cup, but it can also be connected to a spare sizing hole if you have one further out (thus using the smallest or medium hole on the H). (don't close anything up just yet, keep reading)
You see the D Rings on a hinge? These will be attached to your helm at slightly above and behind the center of mass for your head. I find that generally this is about 1" above and 1" behind your ear canal. You can attach those at this point in the process as we'll need to weave the chin strap through these rings while we assemble the chin cup to the straps.
Ok, now notice the buckle strap and captured pull strap. The D ring is threaded through the buckle so that this strap can never leave the buckle opening (thus captured). You'll need to thread it through before going further. You will then thread both the buckle strap end (opposite the buckle) and the pull strap end (opposite its D ring) through the D-rings that are attached to the helmet. Then connect these ends to each side of the chin cup and you've completed your chin strap installation.
It's a somewhat involved installation instruction but once it is set up it is EASY to close up your chin strap inside your helm