Picture: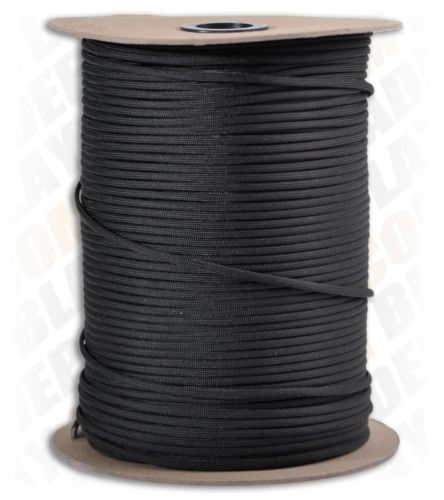 Black #550 Nylon Braided Paracord
Strong High-Quality Cord.
Great for camping, fishing, tie-down, you name it.  Each cord contains seven removable inner strands that can be used for emergency situations.  
Safety note: not intended for parachute use of life suspension
100% Nylon

Made by a US Government Contractor

550lb test

7 Strand Core

Diameter: 5/32"

Made in the USA

Type III Commercial Grade
We normally offer the following choice of lengths: 1', 5', 20', 50', 100', 300', and 1000 foot.  Check the drag down menu for available inventory of this useful demand product.
We think of the 1' & 5' as  sample lengths, the 20' as a back pack skein, the 50' as a camping pack, the 100' for general purpose, the 300' for a household supply and the 1000' for a good big supply or a special project. This represents the total length in one part.
Using Paracord:
International shipping:
International buyers SHOULD contact us for a shipping quote on more than 300 feet of paracord (you will save money).  International buyers MUST contact us for a shipping quote on more than 700 feet of paracord so that we can discuss the most efficient shipping. We will refund on orders that do not follow the MUST rule.  
The 300' rolls (total of 600') are quite compact and two of them can be put into a flat rate padded envelope to keep shipping costs as low as possible.  

The 1000' roll can be squeezed into a flat rate box.