Picture: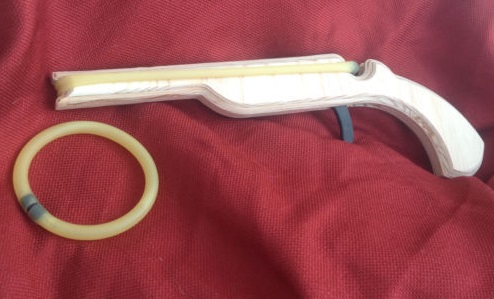 One Rubber Band Gun for use with Surgical Tubing Shots
with FREE SHIPPING!
This listing is for one Rubber Band Gun (RBG).  This gun is specially designed for use with the Society for Creative Anachronism rapier combat and includes 2 Surgical Tubing ammunition shots.  The RBG has a high-grade, well shaped, and thoroughly sanded plywood stock and body to meet the requirements of SCA rapier combat.  Weighing a solid 6 oz it has and excellent hand feel and sufficient robustness to be used as rigid parry.   The draw length on the barrel is 9 1/2" that delivers a pull tension of 13 1/2" with a smooth yet positive 1.5 pound trigger pull that is a perfect fit for the rough and tumble fight.  This RBG is ready for use and has been used to wicked effect at many events.  As it is accurate up to 35 feet this RBG is the perfect way to reach out and touch someone on the rapier field. 
Our RBG should meet all the requirements for other groups such as Empire of Chivalry and Steel and LARP rapier combat, but please consult your safety officer for full information on rules compliance with your activity's weapons standards.
Safety Note: Our RBG is NOT a toy and should be treated like a live fire arm when loaded. Each band has serious tension and could cause injury if not handled carefully.  Be warned and cautious and use proper caution and safeguards against unintended discharge.
Extra ammunition is available from the menu.
Satisfaction policy - Your happiness with our products is a top priority.   See our feedback and know that this represents our sincere commitment to our customers.  Please contact us if you have any problem with what we've sent.  The deal's not done till everyone leaves smiling. 
A note on handling time:  We generally ship in just a few days.  However there are periods in the armor cycle when we are at week long events or getting mobbed that it may take longer.  We guarantee that your armor will be shipped in the time-line set in the auction if not sooner.  Please let us know if you are in urgent need by a specific date and we'll do our very best to accommodate your schedule.
We guarantee your satisfaction with our gear, HOWEVER we do not guarantee the life of the user. Any contact sport has the potential for bodily harm and injury, if using our products in a contact fighting, sparring or any other reenactment involving weapons we do not guarantee against injury!