Picture: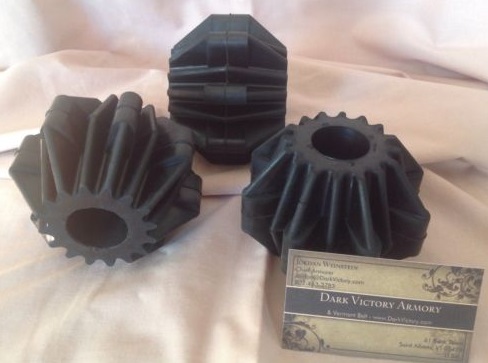 Sturdy Rubber Medieval Mace Head
with FREE SHIPPING!
This auction is for a goodly Rubber Mace Head which are particularly useful for SCA and WMA heavy combat.  Made of a heavy vulcanized rubber it is extremely tough and nearly indestructible given it's single piece stout injection molded construction.  These industrial quality heads can deliver a telling blow while at the same time having fins that moderate the severity of the blow for the safety of the recipient.  This design has been specifically approved by the Society Earl Marshal for SCA combat in all Kingdoms as of 2010 and is widely accepted through the Known Worlde.  However each Kingdom will have it's own standards for weapon construction (particularly overall mass) so please consult with your marshals.
Size
The diameter across the prominent fins is 3 7/8" (10 cm) across the striking surfaces and 2 7/8" (7.3 cm) top to bottom.  Shaft hole is 1 1/4" (3.2 cm).  Weight is just under 11oz. (300 grams).
Appearance
In appearance, they are a mostly smooth black surface with 8 prominent reinforced flanges interspersed with 8 smaller flanges..  This is an industrial product that has been re-purposed from it original use as an agricultural roller for handling sturdy root vegetables and applied to the activity of medieval combat.  This is the reason that the price is so incredibly modest since the massive investment and many hours that would normally need to be invested in design, mold costs, and prototype runs are spread out over a MUCH larger customer base.  So we all get a GREAT discount from this opportunity.  If you haven't seen one, you haven't seen anything like it.
You Can Find More Images of Our Weapons Heads in Our Weapon Head Gallery
Installing Mace Heads